INTRODUCTION
Access to quick, quality healthcare is something many of us may take for granted. Urban and suburban communities can choose from various hospitals, clinics, independent practitioners, and even "Quick Care" facilities for their health needs. But for Americans living in rural communities, critical access and mid-sized hospitals provide most of the much-needed health services.
The Rural Hospital Group (RHG) understands that these area hospitals may be the sole provider of emergency, acute care, or inpatient and outpatient clinic services. But due to the remote locations and lower population, many of these facilities struggle with remaining open. RHG helps by assisting rural hospitals with the management of and access to the capital they need to stay operational.
For the last six years, Stone Bank has worked with RHG to obtain financing through government-guaranteed loan programs, including USDA Business Loans (intended to assist rural communities).
We asked Larry Arthur, President, and Dennis Davis, Chief Financial Officer, about their experience working with Stone Bank team members.
TESTIMONIAL
"We're in the hospital business, buying and operating them.  We've had a relationship with Stone Bank since about 2016 using government-guaranteed programs to assist in our financing. Without programs such as USDA, these projects probably would not be viable to a typical bank. Stone Bank has the process down on moving the paperwork through the system and efficiently close our loans.
"I've been in healthcare for 40 years and I've always had a good relationship with my bankers. If I have worked with a bank, it was because I knew the people personally. Stone Bank's Cara Lank and Nick Roach are great people to work with, as is their CEO, Marnie Oldner.
"The best test of working with someone is having them deliver what they tell you they're going to deliver. Nick and Cara have definitely done that. When they say they're going to do a loan, they do the loan. We haven't had to worry about being taken to the altar and left standing.
"One of the things they did that cemented the relationship was inviting us to have a personal meeting with their board of directors. We made a presentation on our business plan to the board. They definitely know what they're doing, and they appreciate that we know what we're doing. That makes a good partnership.
"I've already referred Stone Bank to friends of mine.  In fact, my brother-in-law has a small business, and I suggested he talk to Stone Bank about their SBA Program."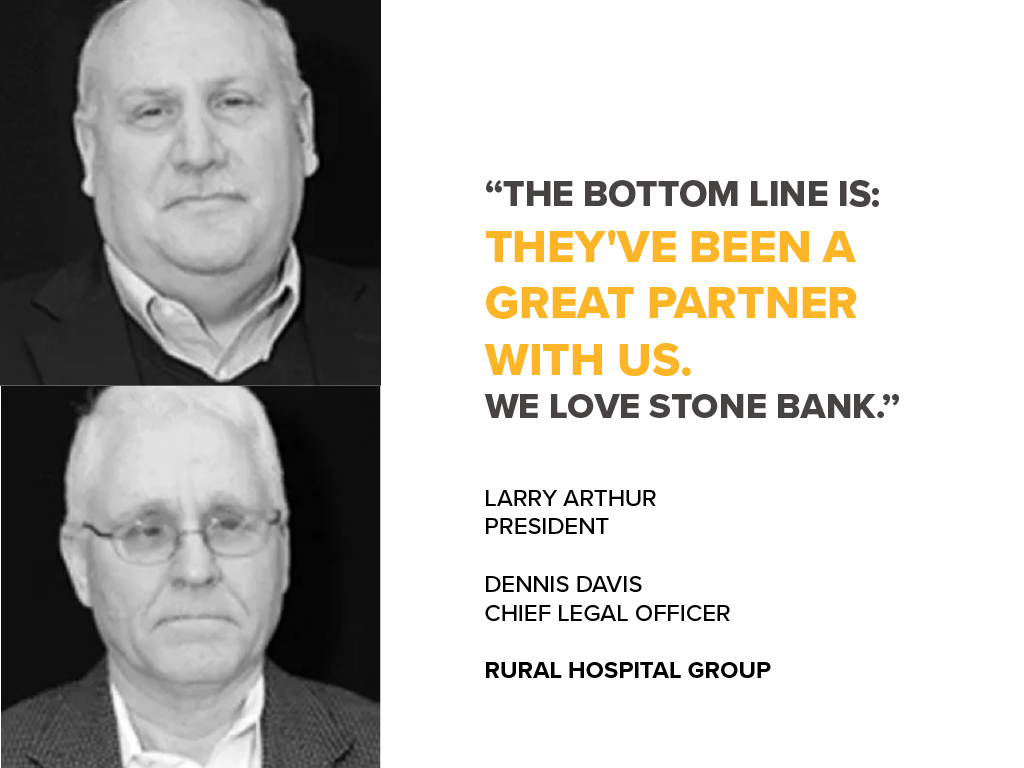 LET'S GET STARTED
Do you know if your business is eligible for USDA Business Loan funding? Or are you simply curious to see what a Stone Bank Boulder Banker can do for your small business? Give us a call at (833) 253-2265 or reach out via email. We're ready to help!