INTRODUCTION
The path to small business ownership isn't always a smooth journey. For Vimal Patel of Dhanvi, LLC, owning a small business was a dream of his, but he had encountered various obstacles along the way.
Fortunately for him, Stone Bank's SBA Lending Team specializes in solving problems and finding routes for success. Our team was able to work with Mr. Patel to secure multiple SBA 7(a) loans to help with the process of acquiring a business. Now he owns and operates a convenience store and gas station in Florida.
Here's what Mr. Patel had to say about his experience working with Stone Bank's lending team.
TESTIMONIAL
"I was in the process of buying my first business, and I had I tried six other banks before this. I got Vinny's number, and his first words were, "Hey, I'd like to help you get moving. I'll get all the documents together, and then we'll see what we can do."
I had been looking for so long and had come across a business that I thought would work out. I had been working on getting all of the documentation lined up. I had quit my $70,000/yr job to start this business. And three days before closing, the owner decided not to sell the business. I was so depressed.
Then I get a call from Vinny, and he says, "Son, don't get depressed. These kinds of things happen in life. But once you start looking for something else, maybe something better is down the road."
I mean, this is the President of the SBA division of the bank! He does not need to call me on his day off. This is normal for Stone Bank, but not what they do at every bank. The people at Stone Bank want to make sure that you will be successful. They always, always, always stood by me as a first-time business owner.
So I started looking for another business. Vinny said, "Go ahead and find what you need. We'll get you in there." These were his exact words. "Do not worry about anything. You are a hardworking guy. Find a business, let me know. We will get you in there."
Even in my personal banking, I don't get this kind of attitude. I don't have a word to explain it, but the people at Stone Bank love their customers. We ended up purchasing a convenience store, be we had some problems with the old pumps. Vinny and the folks at Stone Bank even got me a second loan to improve the pumps and add inventory – while I was closing the first loan for the purchase of the business.
It's like these guys are from another planet. They are a wonderful group of folks. They are not like any other bankers I've ever met. They've been a joy to work with."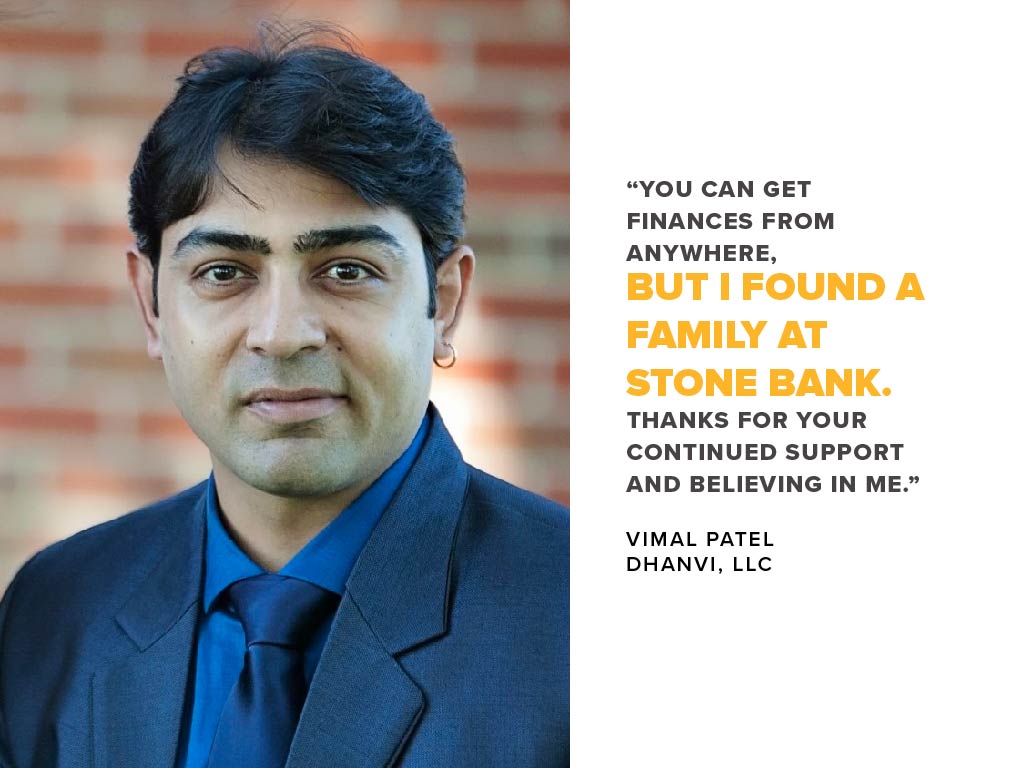 LET'S GET STARTE
D
Is expansion or growth in your future? Or are you simply curious to see what a Stone Bank Boulder Banker can do for your small business? Give us a call at (833) 253-2265 or reach out via email. We're ready to get started!

Subject to credit approval and SBA loan program requirements. Other restrictions may apply.