Located just south of Stuttgart, the duck hunting capital of the world, DeWitt, Arkansas, sees thousands of hunters from around the world visit the area each year, bringing millions of dollars into the region. Until recently, many of these visitors had few options for lodging in Dewitt, which meant driving to nearby cities to eat, shop, and find a hotel to relax in after a long day in the duck blind. Seeing these tourism dollars leave the area, Christina Boyd decided to build the Boyd Farmhouse Inn, a 24-room, family-run and owned hotel in the heart of DeWitt. Opening this hotel will keep more visitors in DeWitt during duck season and provide lodging for area conference and tournament attendees, as well as visitors to Phillips Community College's DeWitt Campus.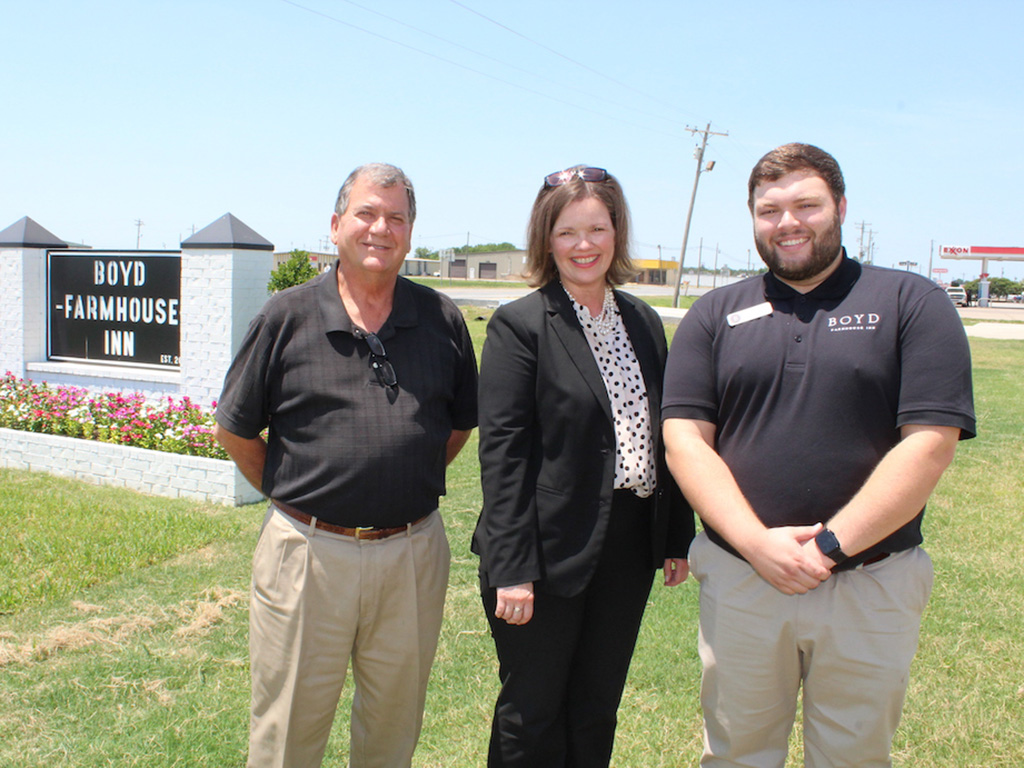 Testimonial
With the support of Loan Officer Tricia Bull and Arkansas County Market President David Jessup of Stone Bank's DeWitt branch, Christina Boyd took her vision from the drawing board to the construction site. After being approved for a business loan, the Boyd Farmhouse Inn began construction in 2021 and has recently had its ribbon-cutting ceremony, making it one of the first newly built hotels in DeWitt. By finding the right lender for her project, Boyd not only created a business with a bright future, but also provided her community with the chance to grow and flourish by creating new jobs and an attraction for visitors to enjoy.
We spoke with Christina Boyd and her nephew Chandler Boyd, the executive manager of the Boyd Farmhouse Inn, about their concept for the hotel and their experience working with Stone Bank.
"It's a great central location, and it will help this community," said Chandler Boyd. "In our two weeks of being open, we have had visitors from all over the U.S., Louisiana, Alabama, Missouri, Iowa, Kansas, even California."

"We're DeWitt people. Six generations of my family are from here. We wanted to help DeWitt grow and prosper. A lot of people overlook traveling to rural areas. We are here to serve not only DeWitt but the surrounding area, St. Charles, Almyra, Gillett, and all of Arkansas County. We are here to support the farm community. David Jessup from Stone Bank has been incredibly supportive, and Stone Bank are big supporters of DeWitt."

Christina Boyd
Supporting Arkansas Farm Country
Many businesses in rural areas struggle to find a lender that will work with them to provide financing options to help start or grow their business, but for Stone Bank, your small business is our big deal. With locations across Arkansas, Stone Bank supports small businesses in rural areas because we live here too and want to help our communities grow and prosper. While some banks look for a reason to say no to lending to small businesses, we look for a reason to say yes.